Barbershops often serve as more than just places for haircuts. They act as important links or connections within a community, helping to pass on important messages and information. People gather at barbershops not only to get their hair cut but also to chat and share news. Because barbershops are relaxed and friendly environments, they provide a comfortable space for conversations. This makes them perfect for spreading news, announcements, and updates throughout the community. In this way, barbershops play a vital role in keeping everyone connected and informed.
We're here today to share an important message that has the potential to make a positive impact on our community. We're thrilled to offer you the opportunity to join the Barbershop and Breastfeeding Initiative. Breastfeeding holds great importance for our community because it improves the health of infants, strengthens emotional connections, and adds to the overall well-being of our population. Studies have demonstrated that breastfeeding can lower the risks for obesity, high blood pressure, type-2 diabetes, as well as breast and ovarian cancer.
We have created this new resource, BreastfeedNC.com, that is an equity focused website with helpful evidence-based information and resources about breastfeeding. Strong Start: Dad's Role in Supporting Breastfeeding, found under the Dads section of BreastfeedNC.com, is a program that is centered around guiding fathers in understanding their evolving roles, anticipating relationship dynamics, comprehending the significance of breastfeeding for both mother and baby, and being well-informed about postpartum aspects of breastfeeding. This program is free, available online for easy access, and allows fathers to learn at their own pace.
Fathers have typically been left out of the conversations around breastfeeding. We believe it is time for this trend to come to an end and that Barbershops can help. You can play a significant role in promoting breastfeeding in the community by creating an inclusive and supportive environment for fathers to learn about and engage with breastfeeding. Here's how you can help:
Conversation Starters: Barbers can initiate conversations with fathers about their role in supporting breastfeeding, creating a comfortable space to discuss the curriculum. Barbershops often serve as community hubs, and casual conversations can help disseminate important information.
Education: Barbershops can offer informational materials about the benefits of breastfeeding, the role of fathers in supporting breastfeeding, and the importance of early bonding between fathers and infants. Posters could be displayed in visible areas, providing fathers with easily accessible information.
Promotional Materials: Offering branded materials, such as QR code cards that link to the Strong Start program, can generate interest and curiosity among fathers. These items could serve as conversation starters and reminders to access the program later.
Social Media Engagement: Barbershops can leverage their social media platforms to share information about the Strong Start program, upcoming events, and success stories of fathers who have actively supported breastfeeding. This digital outreach can extend the impact beyond the physical space.
As part of the program, we will provide your barbershop with QR code cards that link to the Strong Start program. These cards will offer fathers a valuable resource to learn about their crucial role in the breastfeeding journey, equipping them with the knowledge to be supportive and engaged parents. We will also provide you with two posters to hang in your business advertising the Strong Start program. These posters will help spread awareness about breastfeeding and the resources available to fathers.
Barbershops that join the initiative will benefit from continuous assistance, facilitated by regular monthly consultations with our program expert. This support ensures a seamless and prosperous collaboration. Furthermore, there will be an initial program orientation that introduces the advantages of breastfeeding for both mothers and infants, the vital role fathers play in this process, and how barbershops can contribute as valuable partners. This orientation will also cover the use of QR code cards and strategies for program promotion on social media.
Join us in creating a community of support for breastfeeding families! Your partnership with the Barbershops and Breastfeeding Initiative will play a crucial role in nurturing healthier beginnings for our community's children.
Posters to use for the Barbershops and Breastfeeding Initiative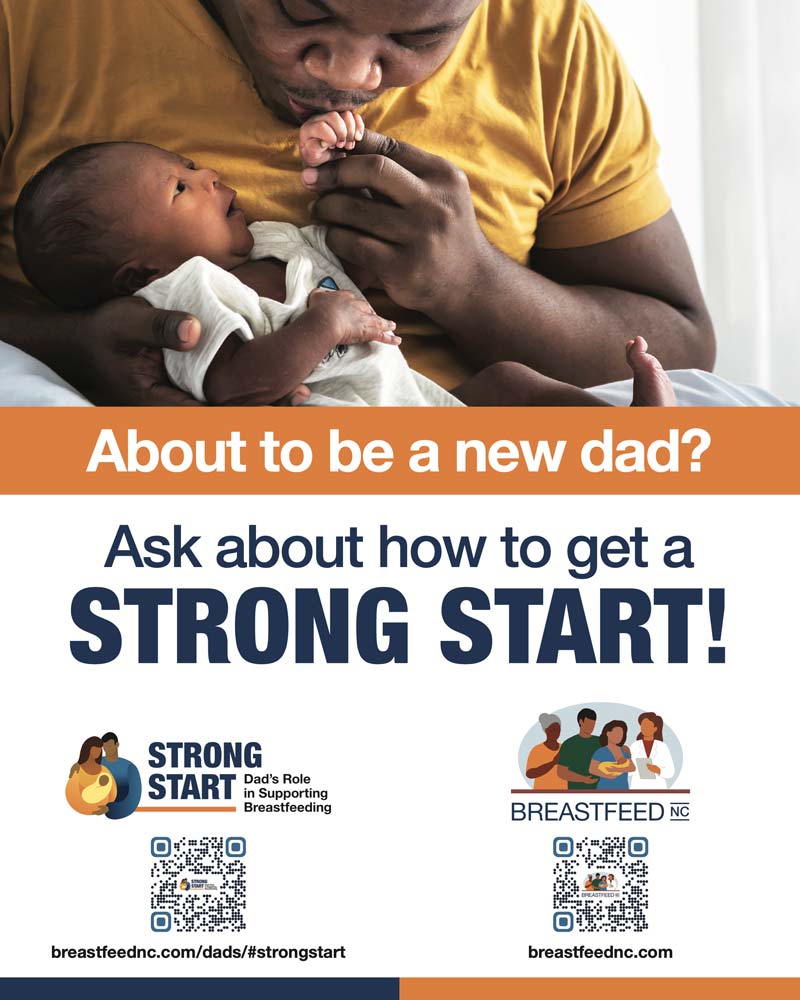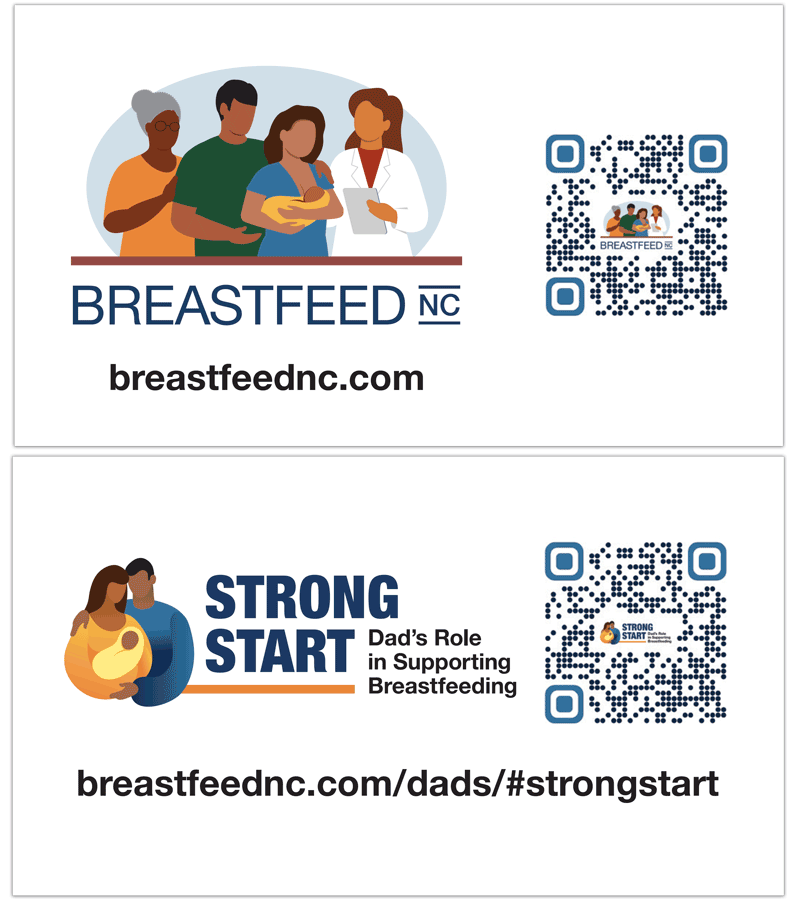 Social Media Posts to use for the Barbershops and Breastfeeding Initiative
Sample 1
Let's celebrate fatherhood and the incredible role dads play in breastfeeding success. Share this post and tag fellow dads who would rock at supporting breastfeeding moms!
Visit our shop to learn more!
https://breastfeednc.com/dads/
#StrongStartDads #BreastfeedingSupport #DadsMakingADifference #ParentingJourney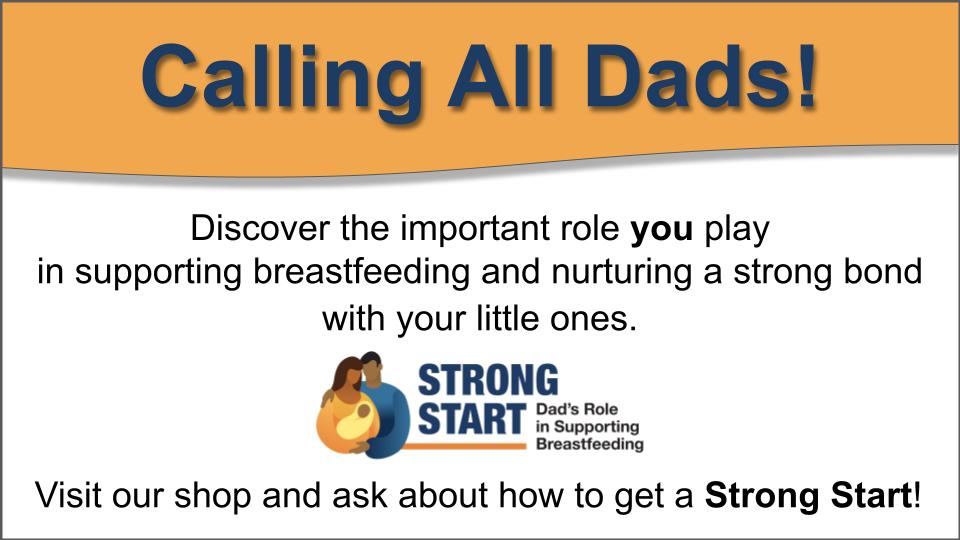 ---
Sample 2
Dads, your support matters! Discover the Strong Start curriculum and become a superhero in your child's breastfeeding journey. Let's make a strong bond together!
Come in today to learn more.
https://breastfeednc.com/dads/
#StrongStartDads #SuperDads #BreastfeedingSupport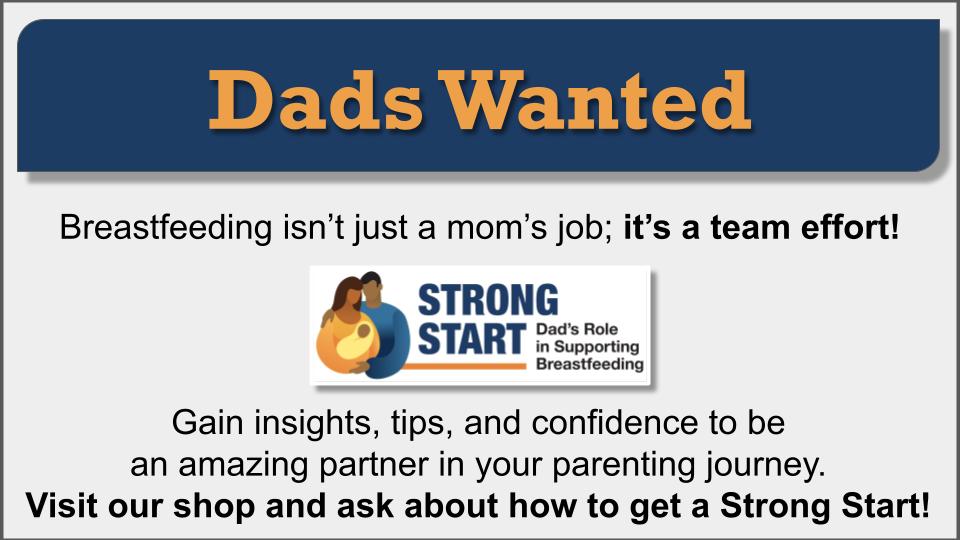 ---
Sample 3
Dive into the Strong Start curriculum and learn how to be a rockstar supporter of breastfeeding. Your role is crucial, and we've got your back!
Come in today to learn more.
https://breastfeednc.com/dads/
#StrongStartDads #SuperDads #BreastfeedingSupport #DadsMakingADifference #AdventureAwaits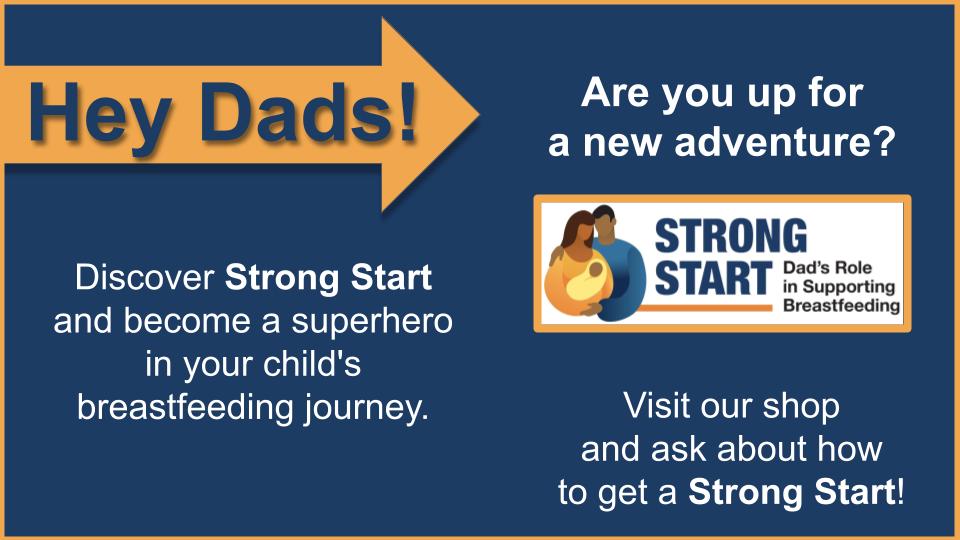 ---
Sample 4
Strong Start is your guide to becoming a pro in supporting breastfeeding and strengthening the bond with your kids. Join the journey now!
Come in today to learn more.
https://breastfeednc.com/dads/
#StrongStartDads #ParentingJourney #TeamParenting #SuperDads #BreastfeedingSupport #DadsMakingADifference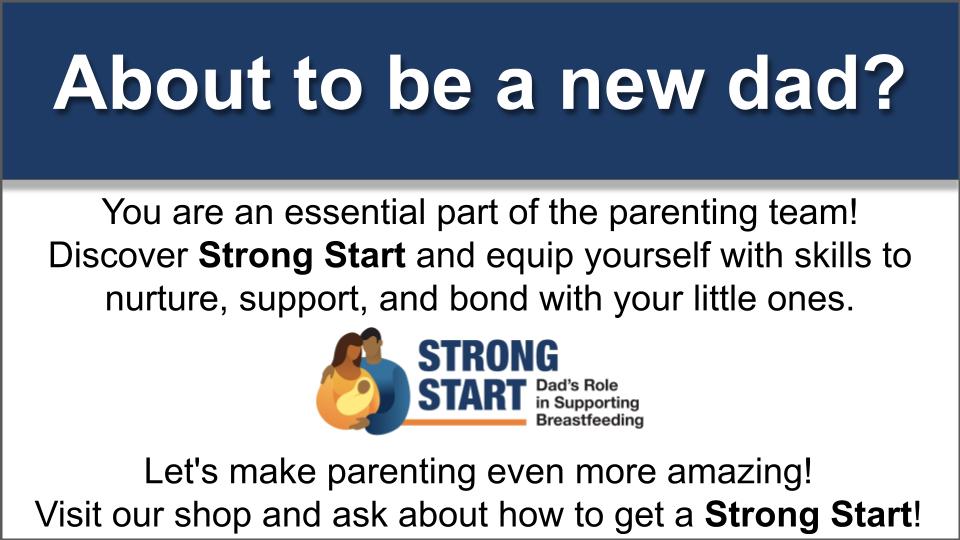 ---
Sample 5
The Strong Start program is the perfect way to learn how to support breastfeeding. Your role is vital, and we've got you covered.
Come in today and to learn more.
https://breastfeednc.com/dads/#strongStart
#StrongStart #BreastfeedingSupport #Fatherhood #HelpingHand #FathersLove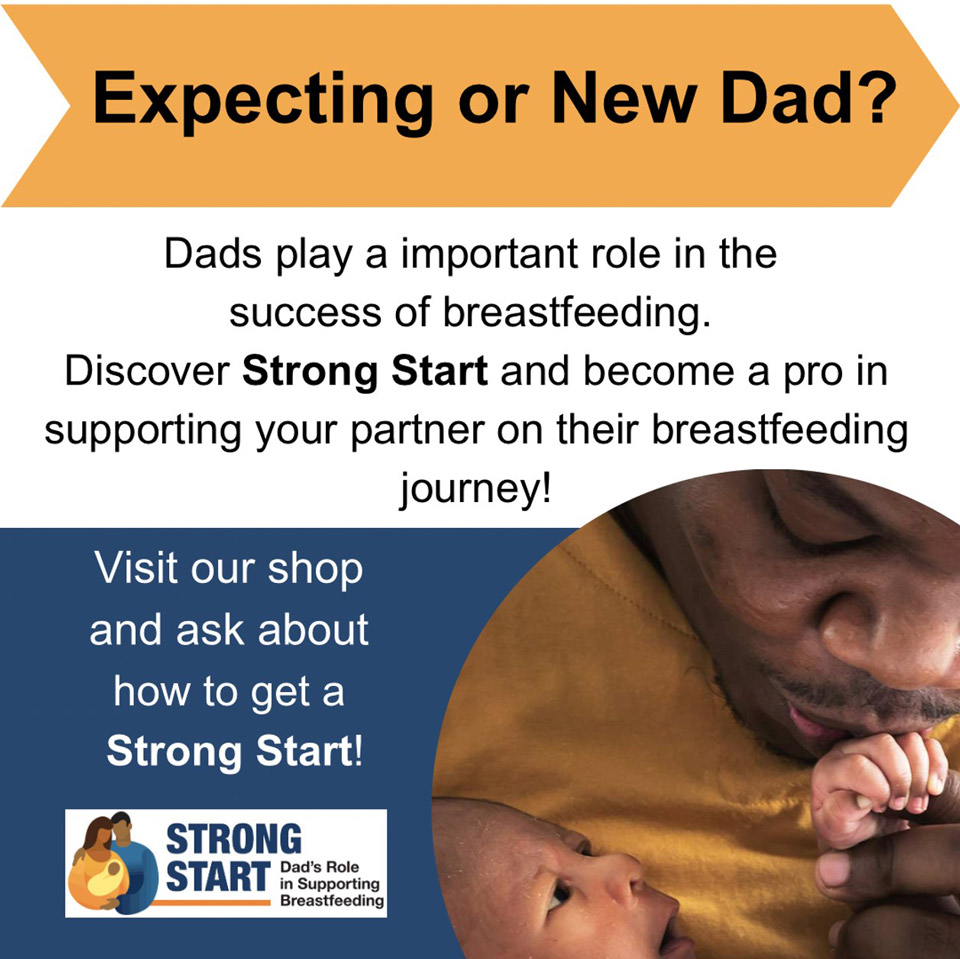 ---
Sample 6
Don't feel left out! Did you know Dads play a vital role in breastfeeding success and longevity? Let's get a Strong Start!
Be sure to like, repost and tag dads you know that would love to support their partners on their breastfeeding journey.
https://breastfeednc.com/dads/#strongStart
#StrongStartDads#YourSupportMatters #ParentingJourney #BreastfeedingSupport #SuperDads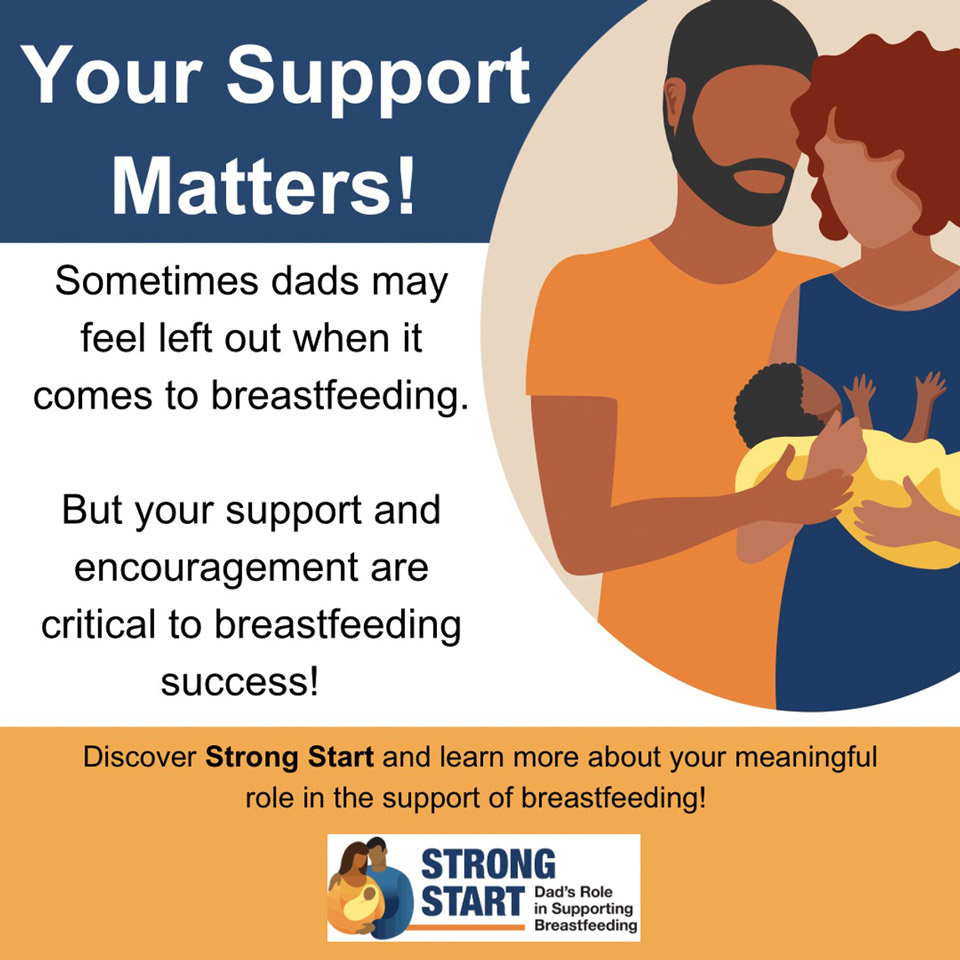 ---